2019 Northeast Asia Defense Transparency Index Data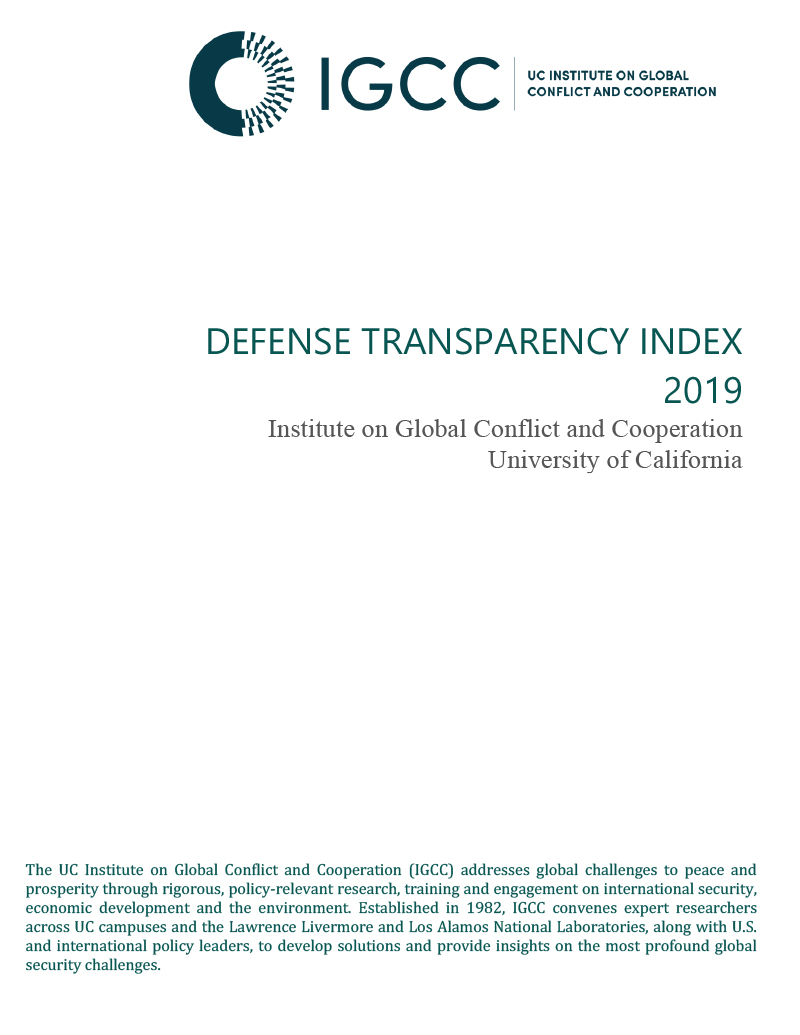 This data sheet presents final scores, linked data, and methodology for the 2019 Defense Transparency Index.
Download
The Defense Transparency Index (DTI) represents the efforts of the Institute on Global Conflict and Cooperation (IGCC) to measure transparency in defense activities in Northeast Asia, as part of the Institute's Northeast Asia Defense Transparency Project. This year's edition of the Index was prepared for the 2019 Defense Information Sharing Workshop, held in Hong Kong in June and part of the Northeast Asia Cooperation Dialogue (NEACD), a multilateral "track II" forum involving foreign ministry officials, defense ministry officials, military officers, and academics from China, Russia, North and South Korea, Japan, and the United States.
The DTI is presented here in spreadsheet form, containing in full the relevant indicators, subsections, variables, sources, formulas, weightings, and results of the Index during the decade of its existence (2010-2019). The following related components to the Index will be posted on our website:
A brief which presents and analyzes results for the 2018-2019 Index
The Powerpoint presentation of the 2018-2019 DTI given at the 2014 Defense Information Sharing Workshop
More information on the Northeast Asia Cooperation Dialogue and this Project
The DTI provides a quantitative measurement of defense transparency for the Democratic People's Republic of Korea, Japan, People's Republic of China, Republic of Korea, Russian Federation, and the United States of America. For the purposes of this Index, IGCC defines defense transparency as an ongoing process in which governments credibly transmit timely, relevant, and sufficient information about their military power and activities, budgetary matters, and intentions to allow other states and domestic audiences to assess the consistency of this information with declared strategic interests and institutional obligations to reduce misperception, ensure good governance, and build mutual trust.