Cyber Sovereignty: How China Is Changing the Rules of Internet Freedom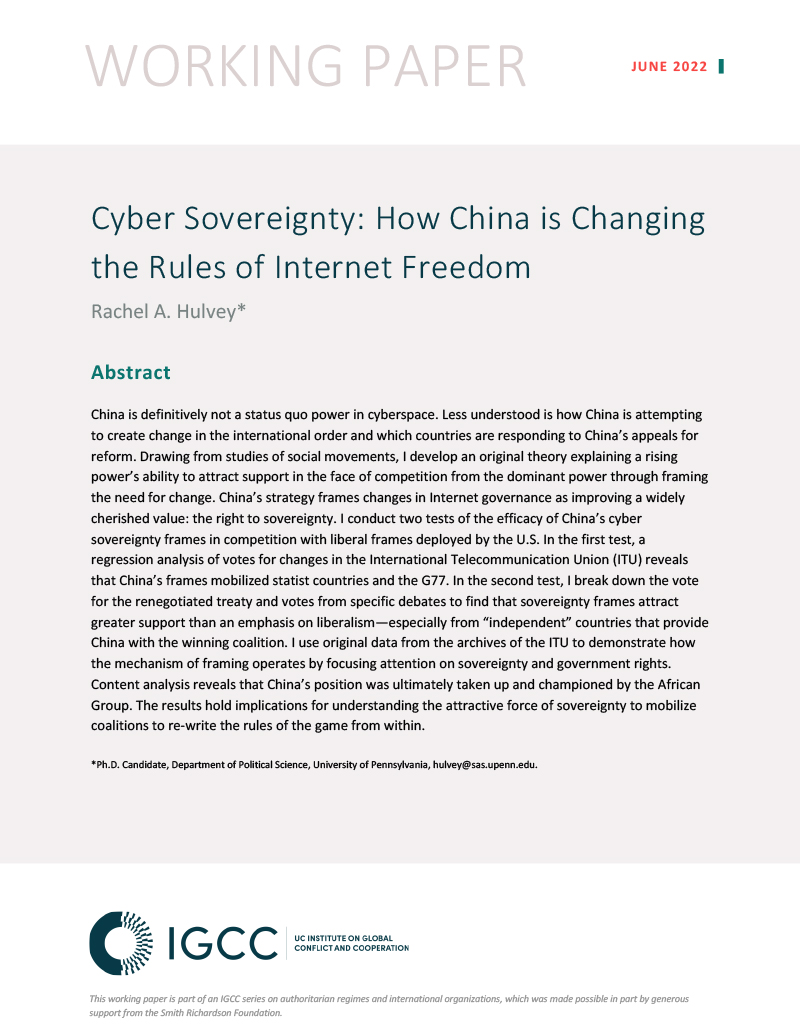 In this working paper, Rachel Ann Hulvey, a doctoral candidate in the Department of Political Science at the University of Pennsylvania, writes about her theory of hegemonic socialization that explains a rising power's ability to mobilize a coalition in the face of competition, specifically in the case of China.
Download
China is definitively not a status quo power in cyberspace. Less understood is how China is attempting to create change in the international order and which countries are responding to China's appeals for reform. Drawing from studies of social movements, Rachel Ann Hulvey develops an original theory explaining a rising power's ability to attract support in the face of competition from the dominant power through framing the need for change. China's strategy frames changes in Internet governance as improving a widely cherished value: the right to sovereignty. Hulvey conducts two tests of the efficacy of China's cyber sovereignty frames in competition with liberal frames deployed by the U.S. In the first test, a regression analysis of votes for changes in the International Telecommunication Union (ITU) reveals that China's frames mobilized statist countries and the G77. In the second test, Hulvey breaks down the vote for the renegotiated treaty and votes from specific debates to find that sovereignty frames attract greater support than an emphasis on liberalism—especially from "independent" countries that provide China with the winning coalition. She uses original data from the archives of the ITU to demonstrate how the mechanism of framing operates by focusing attention on sovereignty and government rights. Content analysis reveals that China's position was ultimately taken up and championed by the African Group. The results hold implications for understanding the attractive force of sovereignty to mobilize coalitions to re-write the rules of the game from within.