Japan's Nuclear Dilemmas in a Challenging New Era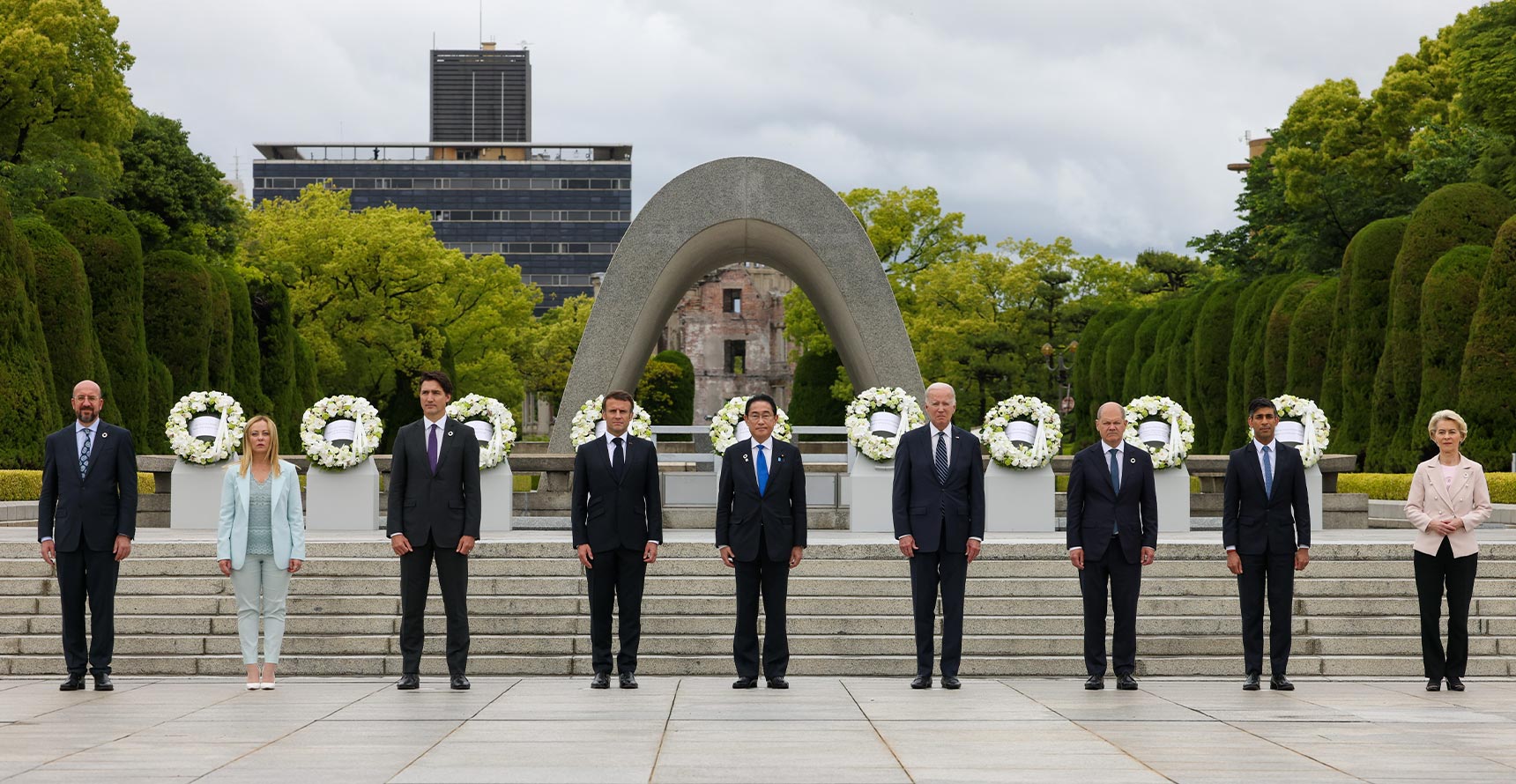 The contemporary security context has sharpened Japan's dilemma regarding nuclear weapons. Japan is surrounded by several nuclear-armed neighbors and depends on U.S. extended deterrence rather than its own nuclear deterrent. An opportunity was embedded in Japan's role as G7 chair for the 2023 summit in Hiroshima, the site of the 1945 nuclear attack and Prime Minister Fumio Kishida's electoral constituency.
The dilemma is one Japan has faced for decades. In 1967, then Prime Minister Eisaku Sato introduced the Three Non-Nuclear Principles, adopted by the Diet, declaring that Japan will not possess, manufacture, or introduce nuclear weapons. In 1968, Sato reaffirmed this goal in his Four Pillars of Nuclear Policy, adding commitments to work toward global nuclear disarmament, nuclear energy's peaceful use, and continued reliance on U.S. extended deterrence.
In 1976, Japan ratified the Non-Proliferation Treaty (NPT) and in 1997 the Comprehensive Nuclear Test Ban Treaty. Japan has consistently submitted draft resolutions supporting disarmament activities to the UN General Assembly and participated in programs such as the Non-Proliferation and Disarmament Initiative.
But internal debate has persisted. A series of senior politicians—including a former minister and vice minister of defense, and a prominent opposition leader—have expressed concern about Japan's lack of its own nuclear deterrent, especially against China. Former chief cabinet secretary Yasuo Fukuda claimed amending the Three Non-Nuclear Principles was "likely" after his deputy declared possessing tactical nuclear weapons would be constitutional.
A nuclear-armed North Korea sparked similar remarks. In 2006, after North Korea's first nuclear test, the Liberal Democratic Party's Policy Research Council Chairman Shoichi Nakagawa proposed a public discussion of nuclear weapons acquisition. In 2017, former defense minister Shigeru Ishiba proposed hosting U.S. nuclear weapons on Japanese soil but was dismissed by the defense minister at the time.
Despite its technical capabilities, Japan continued to eschew acquisition, relying instead on the United States' nuclear umbrella. Japan's security dilemmas intensified recently, as leaders and the public perceive heightened belligerence from its nuclear-armed neighbors. North Korea's recurrent nuclear and missile tests of growing sophistication into Japan's vicinity, along with direct verbal threats, sometimes requires evacuating Japanese civilians.
In his aggressive nuclear rhetoric, President Vladimir Putin's Russia resembles North Korea and has suspended peace treaty negotiations with Japan over Northern Territories. Japan also perceives China's "no limits" embrace of Putin and "wolf warrior" diplomacy to have replaced China's "peaceful rise." China's East and South China Sea military activities and firing of ballistic missiles into Japan's exclusive economic zone have escalated tensions. Equally concerning is China's abandonment of its minimal nuclear deterrent capability of about 400 nuclear warheads, which is estimated to increase to 1500 by 2035.
Putin's nuclear rhetoric led even Chinese President Xi Jinping to call on the international community to "jointly oppose the use of, or threats to use, nuclear weapons." Russia's invasion of Ukraine reignited Japan's concerns, with former prime minister Shinzo Abe encouraging a national discussion on nuclear weapons-sharing arrangements with the United States. But Kishida, along with Defense Minister Nobuo Kishi, expressed that such an arrangement was "unacceptable given [Japan]'s stance of maintaining the Three Non-Nuclear Principles."
The durability of Japan's commitment to abiding by the NPT raises an important consideration. Some security analysts have predicted Japan would seek its own nuclear deterrent in tandem with three of its neighbors' nuclearization. Yet Japan's decades-old nuclear abstention defies those predictions, which neglected other considerations.
Early in the Cold War, Japan's commitment to global economic interdependence prioritized stability and global market access. This shaped incentives to remain a non-nuclear weapons state and reduce risks to its economy. Japan also capped defense spending at 1 percent of GDP. While by 2020 China had surpassed the United States as Japan's top export market, Japan still relied on U.S. extended deterrence despite its own technological capabilities.
Unlike in South Korea, Japanese public opinion remains opposed to nuclear weapons acquisition. A 2019 national survey found 75 percent of respondents supported ratifying the Treaty on the Prohibition of Nuclear Weapons.
To reassure the public, Japan's leaders launched the largest military expansion since 1945. While Article 9 of the Constitution famously renounced the right to maintain military forces, in 2015 the Diet voted to allow Japanese forces to deploy overseas to defend allies. In 2017, the 1 percent of GDP cap in defense expenditures was superseded, and in 2022 Kishida raised it to 2 percent by 2027—on track to become the third-largest defense budget globally. Joint military drills have increased, and Japan has signed new defense agreements with Australia and the United Kingdom.
Japan also planned its G7 chairmanship of the Hiroshima summit carefully. Just as it championed the Comprehensive and Progressive Trans-Pacific Partnership, Japan has sought leadership in other realms. In 2022 Kishida established the International Group of Eminent Persons for a World without Nuclear Weapons and became the first Japanese prime minister to attend the NPT review conference, where he presented the anti-nuclear "Hiroshima Action Plan."
In early 2023, as Xi spent three days visiting Putin in Moscow, Kishida visited Kyiv. He invited Ukrainian President Volodymyr Zelensky to attend the G7 summit, concerned with troubling parallels between threats to Ukraine and threats in the Indo-Pacific. Kishida's article in Foreign Affairs, published on the eve of the summit, expressed his commitment to reinforcing "a free and open international order." Reaffirming the principles of an April 2023 G7 communique, Kishida envisioned "a world without nuclear weapons."
To set the stage, Kishida launched the G7 summit by greeting G7 leaders at the Hiroshima Peace Memorial Park. While the Hiroshima Vision on Nuclear Disarmament disappointed nuclear abolitionists, it also reaffirmed Japan's longstanding abstention from acquiring its own nuclear deterrent, even at this critical juncture. Japan has stayed its course.
JOHN T. DEACON is a graduate student at the University of California, Irvine, and an alum of IGCC's Public Policy and Nuclear Threats Boot Camp. 
ETEL SOLINGEN is a longtime IGCC affiliate and The Distinguished Tierney Chair in Global Peace and Conflict at the University of California, Irvine.
This blog post was originally published on East Asia Forum. It has been reprinted with permission. 
Photo credit: Number 10