IGCC's Public Policy and Nuclear Threats (PPNT) Boot Camp Kicks Off This Week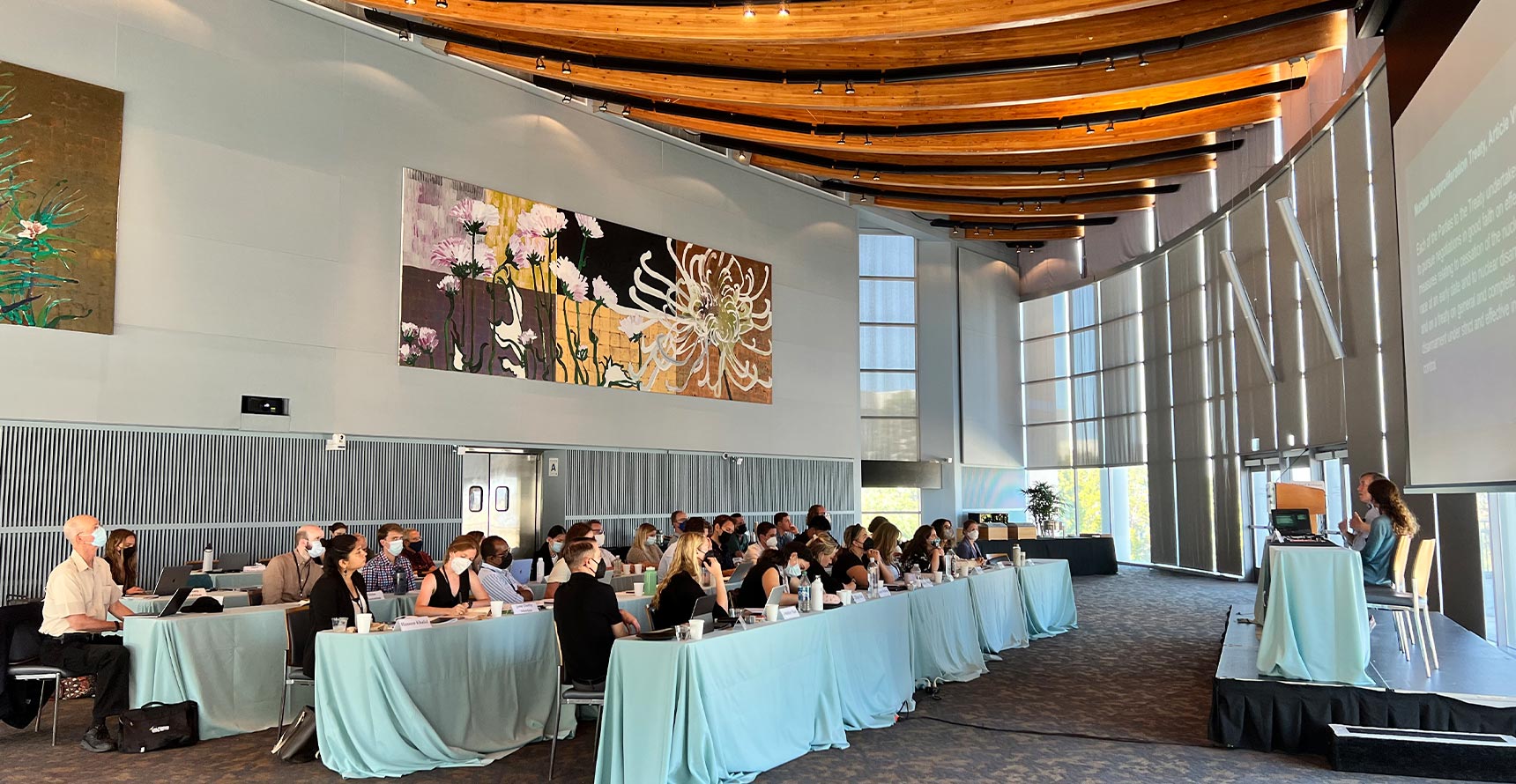 IGCC is excited to kick off the 20th annual Public Policy and Nuclear Threats (PPNT) Boot Camp this week.
Convened every summer since 2003, PPNT brings together the foremost U.S. experts on nuclear security policy to shape the next generation of nuclear policy leaders. During two intensive weeks, a cohort of master's students, Ph.D. candidates, postdoctoral fellows, and government sector professionals will have the chance to learn from, and engage with, these experts. This year's 35 participants were selected from a record number of applicants and come from a range of geographic and academic backgrounds, representing 10 countries and the fields of political science, nuclear engineering, physics, chemistry, and international security.
The diversity of the cohort was one of the most memorable aspects to Edward Goldring, a 2019 PPNT alumnus. Now an assistant lecturer at the University of York and the Korea-Pacific Fellow at UC San Diego's School of Global Policy and Strategy, Goldring remembers his time at PPNT fondly: "The main thing I took from PPNT was being able to learn from people from different backgrounds and with different perspectives. In my cohort, we had political scientists working on different areas, historians, physicists, and engineers," Goldring said. "I learned a huge amount from my fellow participants—as much as I did from the speakers."
PPNT focuses on teaching participants to design and implement policies that reduce the risk of weapons of mass destruction. Lectures cover nuclear deterrence, stockpile stewardship, nonproliferation, nuclear risks and responses, and emerging threats. Each year, the program culminates in a simulation that allows the participants to apply the knowledge they have gained to hypothetical scenarios, further preparing them for careers in nuclear policy.
The program is co-directed by Ambassador Linton Brooks, former Undersecretary of the National Nuclear Security Administration, and Dr. Bethany Goldblum, Executive Director of the Nuclear Science and Security Consortium, Associate Research Engineer at UC Berkeley, and Staff Scientist at the Lawrence Berkeley National Laboratory.
"What truly sets PPNT apart is its ability to foster a space where technical and non-technical scholars can collaborate and learn from one another," says Goldblum. "Participants are exposed to valuable insights from leading experts, making it a great platform for professional development. My favorite thing about PPNT, apart from working with Linton, of course, is that I also learn something new every year."
Funding for the program comes from the Stanton Foundation and the U.S. Department of Energy's National Nuclear Security Administration (NA-24). The Principal Investigator for the program is Professor Neil Narang, Research Director at IGCC and Associate Professor of Political Science at UC Santa Barbara.
"For over two decades, IGCC's signature Policy and Nuclear Threats program has trained over 600 participants—essentially an entire generation of nuclear scholars and policymakers—including future professors at dozens of top universities, future policymakers at the highest levels of the U.S. government, and future leaders at private foundations," Narang said.
"No other program matches the history, quality, breadth, and alumni base of the PPNT program."
For updates and photos from this year's program, keep an eye on IGCC's website, Twitter, and Instagram pages.