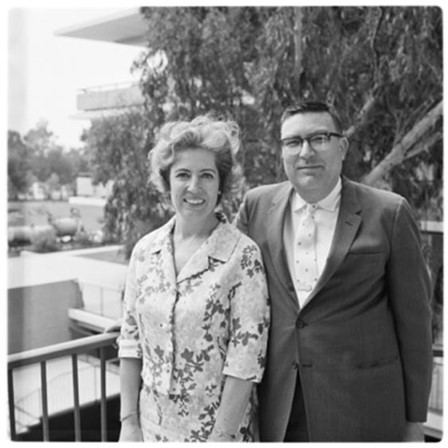 Sybil Dunford York, wife of Herbert (Herb) York, UC San Diego's first chancellor and the founding director of the UC Institute on Global Conflict and Cooperation, has died. She was 98.
Dubbed the first "First Lady" of UC San Diego, Sybil was an active participant in the life of the UC San Diego community in the decades after the university was founded. The York family also played an important role in shaping the intellectual agenda of IGCC, including through their continuous support for research on arms control, nonproliferation, and countering unconventional and emerging threats.
"Sybil and Herb York played a foundational role in the creation and establishment of IGCC back at the beginning of the 1980s,"current IGCC director Tai Ming Cheung said. "While Herb was responsible for determining the mission, goal, and policy impact of the institute, Sybil provided the care, warmth, and compassion that set its institutional culture. Even when Herb passed, Sybil continued to maintain close ties with IGCC and attend our events, especially the annual Herb York memorial lecture. Sybil and Herb's legacy will live on long into the future at IGCC".
Born in 1924 in San Francisco, Sybil spent her childhood in Buttonwillow, California before attending UC Berkeley to study Latin and math, where she met Herb York. The two married shortly after the end of World War II.
"Mom and Dad had an extraordinary life together," says Sybil's daughter, Rachel York. "As the wife of the first Chancellor, she was a gracious hostess and deeply involved in the community. The entire family learned Spanish with a view to enhancing San Diego's relationship with Tijuana, and she became quite fluent, and a member of El Club de las Buenas Amigas across the border. High society was not her comfort zone, but she pulled it all off with grace and aplomb. Yet she was happy to fade into the background in later years, with family and friends."
Preceded in death by her husband Herb in 2014, Sybil York is survived by her son David, daughters Rachel and Cynthia, four grandchildren—Edward, Marian, Sophie, and Rhianydd Qing—and great-granddaughter Danica.
IGCC thanks Rachel York for providing photos and stories for this tribute, and the York family, for their ongoing support of the Herb York Dissertation Fellowship.