Defending the Global Human Rights System From Authoritarian Assault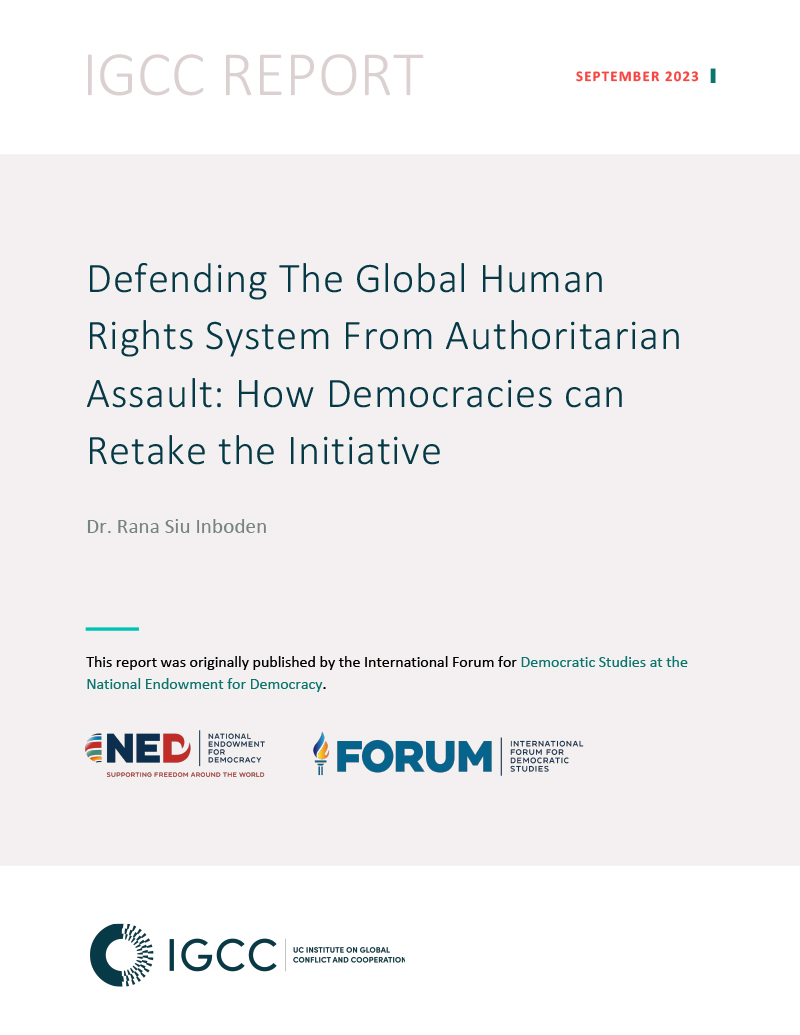 In this report, Rana Siu Inboden, a senior fellow at the Robert S. Strauss Center for International Security and Law at the University of Texas at Austin, discusses ways that human rights norms can be upheld in the United Nations human rights system.
Download
Authoritarian influence in multilateral institutions—particularly the United Nations Human Rights Council (UNHRC)—is growing rapidly and poses a serious threat to democratic and human rights principles. Repressive governments have worked to undermine mechanisms that are meant to ensure accountability for rights abuses and to transform the United Nations (UN) its related bodies, and other international institutions into fora for mutual praise and exculpation.
In this report, Rana Siu Inboden, a member of the IGCC network of scholars working on authoritarian regimes and international institutions, and a senior fellow with the Robert S. Strauss Center for International Security and Law at The University of Texas at Austin, unpacks what these threats mean and what can be done to stop them.
Inboden shows how both the Chinese Communist Party (CCP) and the Kremlin are working to subvert human rights norms on the international stage, peddle favorable narratives, and oppose resolutions examining their poor human rights records. They also constitute the most notable part of the Like-Minded Group (LMG), a voting cohort in the UN composed primarily of autocracies that act collectively to constrain the international human rights system. It is in the vital interest of democratic societies to rally behind the global human rights system and ensure that it remains capable of assisting activists and victims around the world, even in the most repressive environments.
Without a vigorous democratic response, People's Republic of China (PRC), Kremlin, and other authoritarian influence in multilateral institutions is likely to grow significantly, and LMG arguments could persuade an increasing number of countries to join in the debilitation of the international human rights system. The UN human rights system is worth defending because of the moral weight it carries, the accountability it provides for repressive governments, and its ability to inspire local activists. By taking the initiative, competing for positions in multilateral bodies, forging coalitions across regions and development levels, cultivating civil society networks, and investing in long-term diplomatic campaigns, democratic states would dramatically improve the outlook for global human rights mechanisms and for the expansion of human freedom.
Read the blog post based on this report here. 
Photo credit: GPA Photo Archive