Defense Transparency Index 2019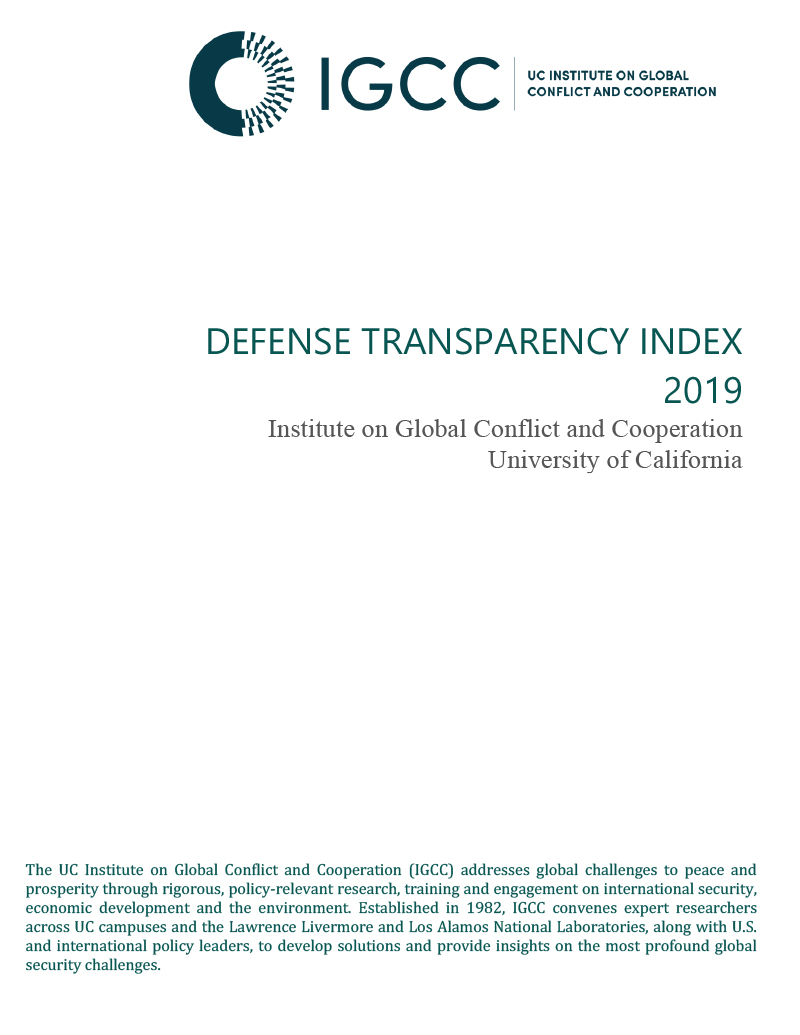 This policy brief describes the results of the 2019 Defense Transparency Index, an IGCC project that ranks China, Japan, South Korea, North Korea, Russia, and the United States on their efforts to promote transparency in defense and national security.
Download
In an increasingly volatile world, mutual trust and confidence among defense establishments is critical. Growing arms competition and security anxiety in Northeast Asia, one of the most strategically important but politically volatile regions of the world, is increasing the demand for defense information, not only from governments and militaries but also from businesses, the media, and concerned citizens.
The Defense Transparency Index (DTI), a project of the University of California's Institute on Global Conflict and Cooperation, ranks six countries on their efforts to promote transparency in defense and national security. Included in the Index are the People's Republic of China, Japan, the Democratic People's Republic of Korea (DPRK), and the Republic of Korea, along with the external major powers most involved in the region—the United States and Russia.
What constitutes "defense transparency" is contested, and there is a lack of agreed-upon definitions and standardized means of measurement. The DTI addresses this gap by providing a framework for defining and measuring defense transparency. We rank countries across eight indicators to come up with overall rankings and for each country, providing a rigorous measurement of this essential but contested concept. Countries score well for budgetary disclosures, issuance of defense white papers, and being transparent on their military capabilities.
The DTI is presented at the annual Northeast Asia Cooperation Dialogue (NEACD), a multilateral forum for track-two diplomacy. NEACD, which was founded by Susan Shirk, seeks to reduce the risk of military conflict in the region and to lay the groundwork for an official multilateral process in Northeast Asia by providing a regular channel of informal communication among the six governments.
Results from the 2019 Defense Transparency Index show that defense transparency is on the decline among regional powers. Among the six countries ranked—China, Japan, North and South Korea, Russia, and the US—scores decreased on average by 8% compared to 2015-16—marking a significant decrease in transparency, a worrying trend in an era of intensifying regional security tensions, where the potential for miscalculation is growing.