Northeast Asia Defense Transparency Index 2021–22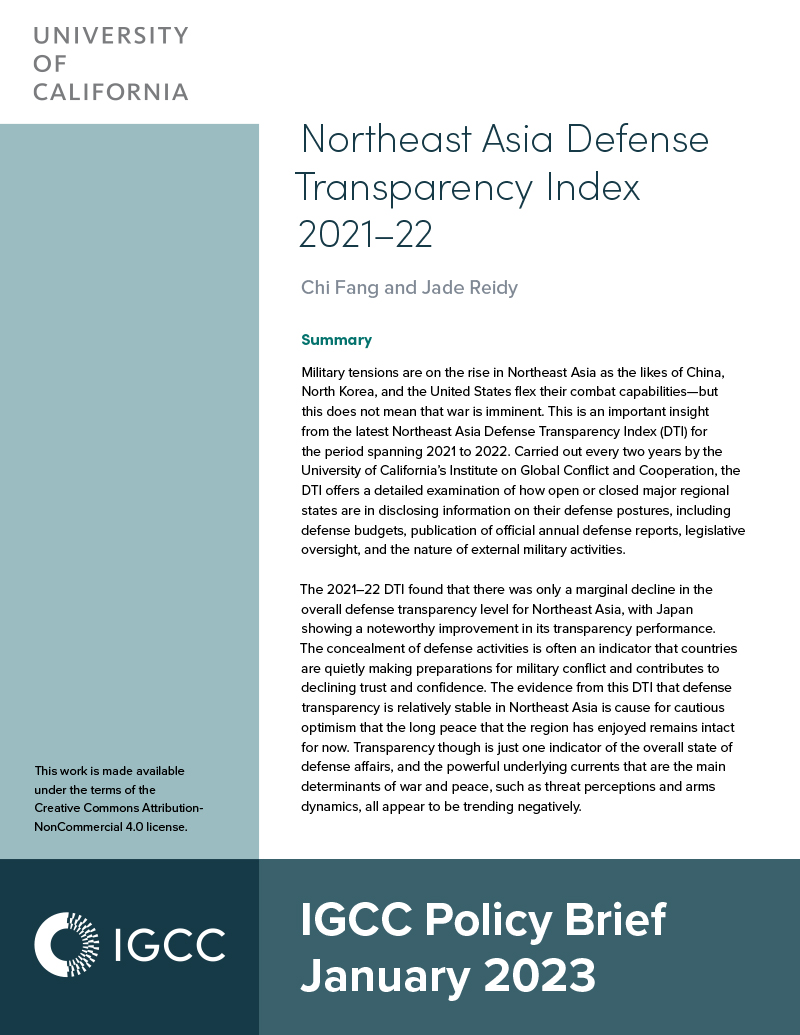 In this policy brief, Chi Fang and Jade Reidy analyze the Defense Transparency Index data for 2021–22.
Download
Military tensions are on the rise in Northeast Asia as the likes of China, North Korea, and the United States flex their combat capabilities—but this does not mean that war is imminent. This is an important insight from the latest Northeast Asia Defense Transparency Index (DTI) for the period spanning 2021 to 2022. Carried out every two years by the University of California's Institute on Global Conflict and Cooperation, the DTI offers a detailed examination of how open or closed major regional states are in disclosing information on their defense postures, including defense budgets, publication of official annual defense reports, legislative oversight, and the nature of external military activities.
The 2021–22 DTI found that there was only a marginal decline in the overall defense transparency level for Northeast Asia, with Japan showing a noteworthy improvement in its transparency performance. The concealment of defense activities is often an indicator that countries are quietly making preparations for military conflict and contributes to declining trust and confidence. The evidence from this DTI that defense transparency is relatively stable in Northeast Asia is cause for cautious optimism that the long peace that the region has enjoyed remains intact for now. Transparency though is just one indicator of the overall state of defense affairs, and the powerful underlying currents that are the main determinants of war and peace, such as threat perceptions and arms dynamics, all appear to be trending negatively.
Read the key takeaways from IGCC News here.