Russia's Global Anti-Nazism Campaign: Seeking Support in International Organizations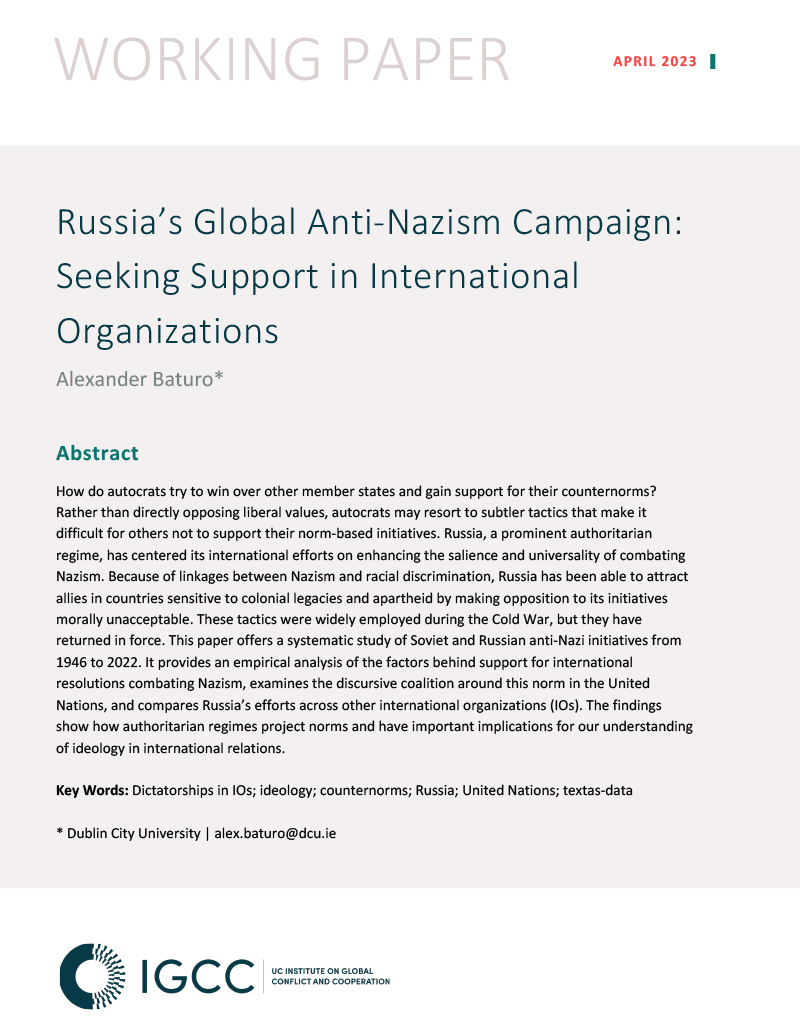 In this working paper, Alexander Baturo of Dublin City University examines how Russia has used the universality of combating Nazism as a means to win friends in the international arena.
Download
How do autocrats win over other member states and gain support for their counter-norms? Rather than directly opposing liberal values, autocrats may resort to subtler tactics that make it difficult for others not to support their norm-based initiatives. Russia, a prominent authoritarian regime, has centered its international efforts on enhancing the salience and universality of combating Nazism. Because of links between Nazism and racial discrimination, Russia has been able to attract allies in countries sensitive to colonial legacies and apartheid by making opposition to its initiatives morally unacceptable. These tactics were widely employed during the Cold War, but they have returned in force. This paper offers a systematic study of Soviet and Russian anti-Nazi initiatives from 1946 to 2022. It provides an empirical analysis of the factors behind support for international resolutions combating Nazism, examines the discursive coalition around this norm in the United Nations, and compares Russia's efforts across other international organizations (IOs). The findings show how authoritarian regimes project norms and have important implications for our understanding of ideology in international relations.