Security at Sea: A Turning Point in Maritime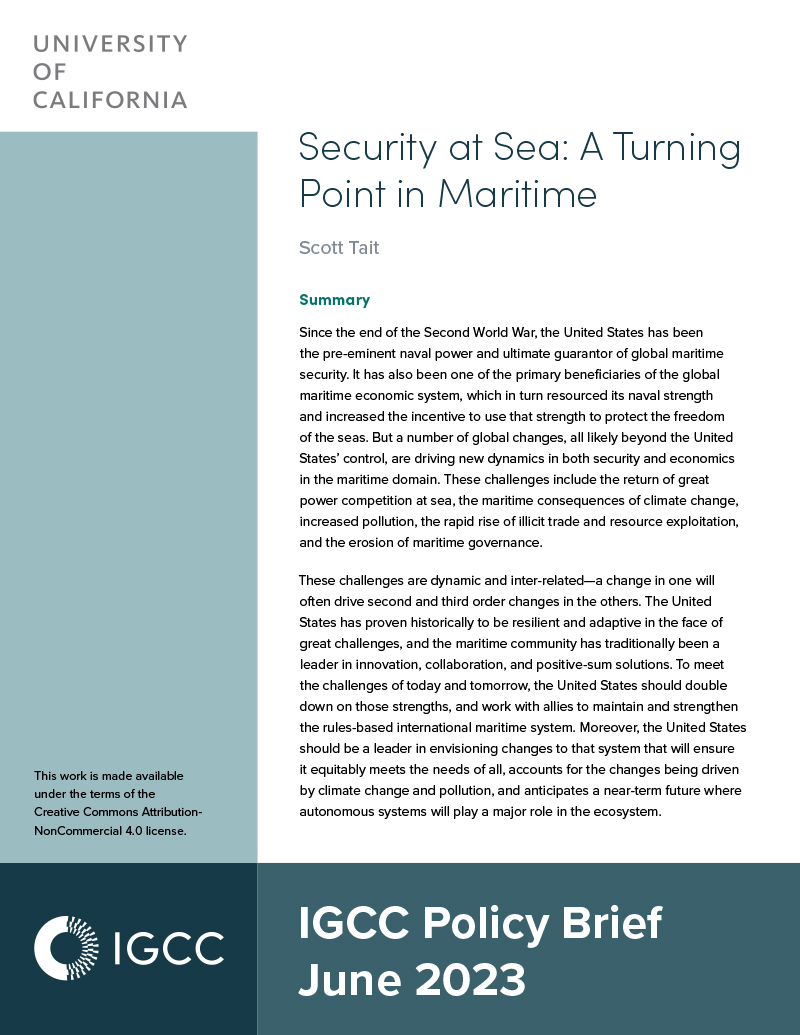 In this policy brief, affiliated researcher Scott Tait analyzes new challenges in the maritime sphere and suggests ways the United States and United Nations should respond to new threats that span security, technology, and the environment.
Download
Since the end of the Second World War, the United States has been the pre-eminent naval power and ultimate guarantor of global maritime security. It has also been one of the primary beneficiaries of the global maritime economic system, which in turn resourced its naval strength and increased the incentive to use that strength to protect the freedom of the seas. But a number of global changes, all likely beyond the United States' control, are driving new dynamics in both security and economics in the maritime domain. These challenges include the return of great power competition at sea, the maritime consequences of climate change, increased pollution, the rapid rise of illicit trade and resource exploitation, and the erosion of maritime governance.
These challenges are dynamic and inter-related—a change in one will often drive second and third order changes in the others. The United States has proven historically to be resilient and adaptive in the face of great challenges, and the maritime community has traditionally been a leader in innovation, collaboration, and positive-sum solutions. To meet the challenges of today and tomorrow, the United States should double down on those strengths, and work with allies to maintain and strengthen the rules-based international maritime system. Moreover, the United States should be a leader in envisioning changes to that system that will ensure it equitably meets the needs of all, accounts for the changes being driven by climate change and pollution, and anticipates a near-term future where autonomous systems will play a major role in the ecosystem.