Stumbling Out of the Gates: Strategy and Weakness after Revolution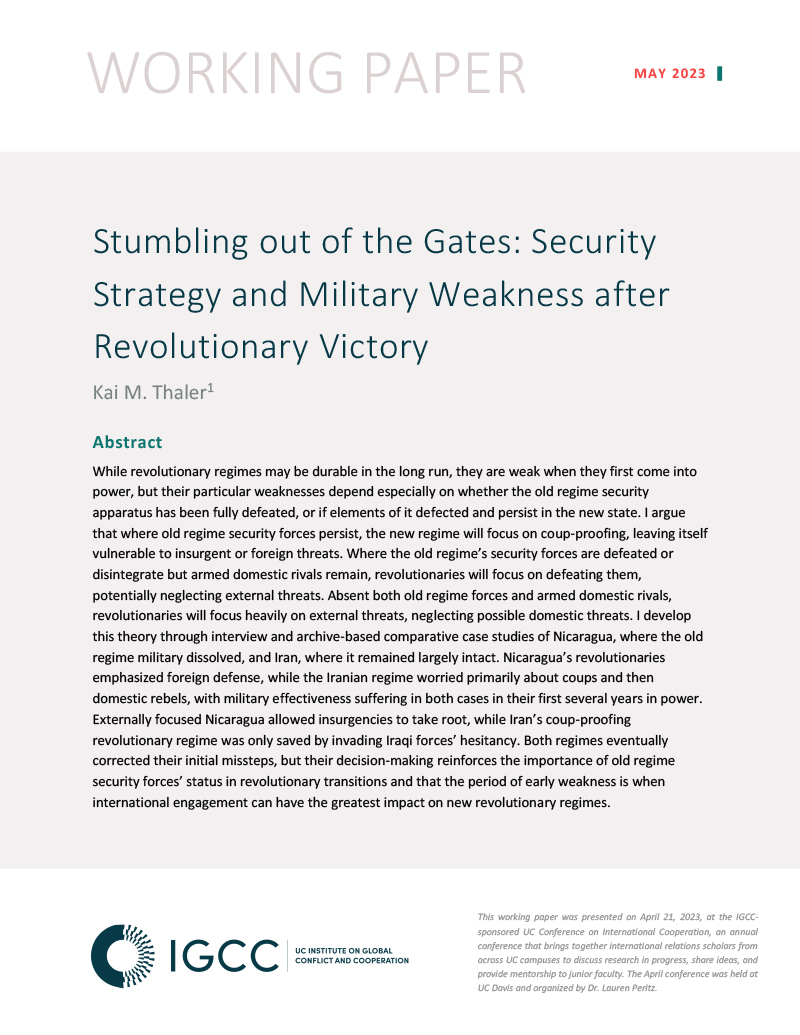 In this working paper, Kai Thaler, assistant professor in the Department of Global Studies at UC Santa Barbara, analyzes how the strength of the old security apparatus is a predictor for regime change success.
Download
While revolutionary regimes may be durable in the long run, they are weak when they first come into power, but their particular weaknesses depend especially on whether the old regime security apparatus has been fully defeated, or if elements of it defected and persist in the new state. Kai Thaler argues that where old regime security forces persist, the new regime will focus on coup-proofing, leaving itself vulnerable to insurgent or foreign threats. Where the old regime's security forces are defeated or disintegrate but armed domestic rivals remain, revolutionaries will focus on defeating them, potentially neglecting external threats. Absent both old regime forces and armed domestic rivals, revolutionaries will focus heavily on external threats, neglecting possible domestic threats. Thaler develops this theory through interview and archive-based comparative case studies of Nicaragua, where the old regime military dissolved, and Iran, where it remained largely intact. Nicaragua's revolutionaries emphasized foreign defense, while the Iranian regime worried primarily about coups and then domestic rebels, with military effectiveness suffering in both cases in their first several years in power. Externally focused Nicaragua allowed insurgencies to take root, while Iran's coup-proofing revolutionary regime was only saved by invading Iraqi forces' hesitancy. Both regimes eventually corrected their initial missteps, but their decision-making reinforces the importance of old regime security forces' status in revolutionary transitions and that the period of early weakness is when international engagement can have the greatest impact on new revolutionary regimes.
This working paper was presented on April 21, 2023, at the IGCC-sponsored UC Conference on International Cooperation, an annual conference that brings together international relations scholars from across UC campuses to discuss research in progress, share ideas, and provide mentorship to junior faculty. The April conference was held at UC Davis and organized by Dr. Lauren Peritz.